Back to all posts
Posted on
Order Your Yearbook Today!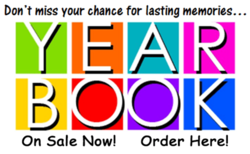 We are offering a 2022-2023 yearbook featuring another fabulous school year at Mary Bergeron Elementary!
Yearbooks need to be pre-ordered and pre-paid. The cost is $20 (cash only please) per yearbook. Yearbooks will be delivered in the fall. If your child will not attend MBE next year and you wish to purchase a yearbook, provide us with a phone number so we can contact you once the yearbooks have arrived. Deadline to order is Friday, June 9, 2023.