Back to all posts
Posted on
School Supplies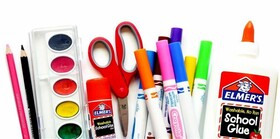 Click here for the school supply lists for the 2019-2020 school year.
Our school council has set up two fundraisers that will help you get organized for the school year while raising money for the school.
School Start: This is an online store that has all our school supply lists already loaded. Simply go to www.schoolstart.ca choose "Parents Shop Here" from the top right then select province, town and school. You can then click near the top where it says "Click here to purchase your school kits" - from there you get the basic kit and can add other items from the list if you actually need them. The whole list of what you need is there, right down to Kleenex and ziplock bags. The order will come directly to you in a tote bag, ready to be labeled for next school year. Council earns back $5 per kit sold which goes back into fun things for the kids.
By shopping on that main page, you are also able to just buy specific items if you don't want the kit. This is an easy alternative for those that might not have the time to do all the school shopping in the stores.
Olivers Labels: When ordering supplies, don't forget labels! Please make sure to use the link www.oliverslabels.com/MBE for Council to earn back 20% of your order to put towards programs and events. They usually have good sales, so sign up for their mailing list to save a bit extra too.